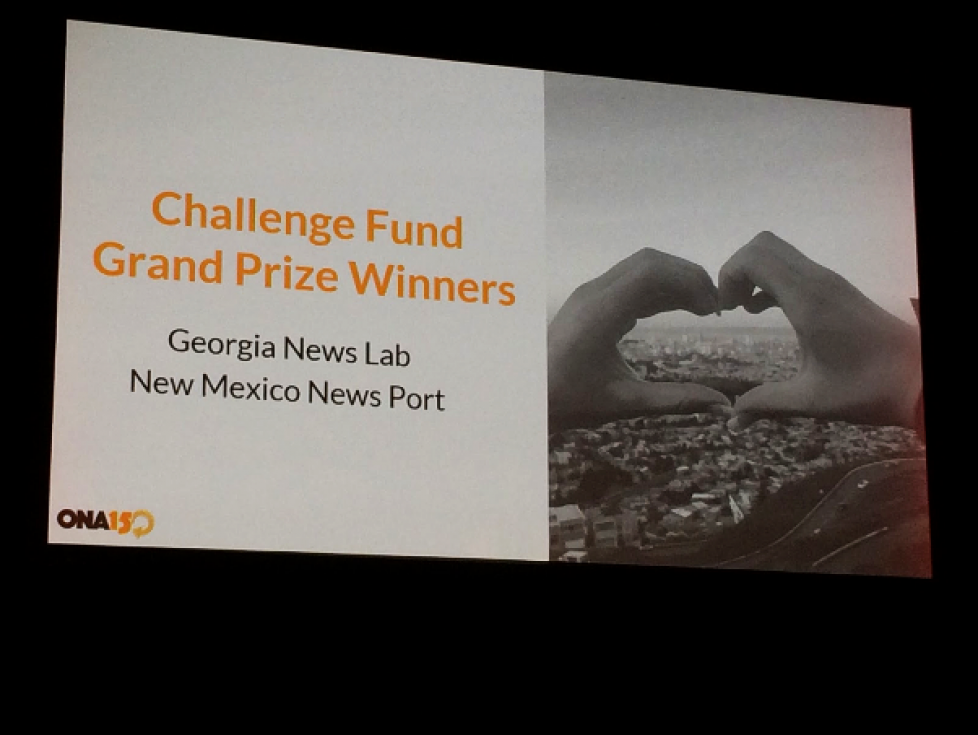 [vc_row][vc_column][vc_single_image image="6330″ img_size="large"][vc_column_text]Contact: Michael V. Marcotte, mmarcotte@unm.edu or
Kate Nash Cunningham, katenashreporter@gmail.com[/vc_column_text][vc_separator][vc_column_text]
UNM journalism collaboration cited for "hacking the curriculum"
[/vc_column_text][vc_column_text]The Online News Association (ONA), the world's largest association of online journalists, has named the New Mexico News Port, a digital news lab at the University of New Mexico, a Grand Prize winner in ONA's "Challenge Fund for Innovation in Journalism Education."
Georgia News Lab was also recognized.
ONA President Jane McDonnell featured the announcement in her opening remarks to more than 2,000 attendees at ONA's 2015 annual conference, held Sept. 24-26 in Los Angeles.
"This is exactly the high level of work we were hoping for when launching the Challenge Fund," McDonnell said.
ONA launched the $1 million Challenge Fund in 2014. The goal is to stimulate digital news experimentation and collaboration — to "hack the curriculum" — in university journalism programs as a response to rapid changes in journalism today.[/vc_column_text][vc_single_image image="6354″ img_size="large" add_caption="yes"][vc_column_text]The University of New Mexico was one of only 24 schools selected for the program, out of 200 applicants.
UNM's Communication and Journalism Department was initially awarded a $35,000 grant with which to start the New Mexico News Port. The 'Port is now funded in its second year by a $50,000 grant from the Excellence and Ethics in Journalism Foundation.
The News Port will receive $10,000 in grand prize money. The other grand prize winner, the Georgia News Lab, an investigative reporting consortium among four universities, will receive $65,000 in grand prize money.
The fund gets its financial support from five foundations: Excellence and Ethics in Journalism Foundation, the Robert R. McCormick Foundation, the John S. and James L. Knight Foundation, the Democracy Fund and the Rita Allen Foundation.[/vc_column_text][vc_separator][vc_column_text]About the News Port:
Founded in 2014 by Communication and Journalism Department Professor of Practice Michael Marcotte, "The New Mexico News Port" serves as a student publishing platform, a digital innovation lab and a news collaboration hub. Its editor is Kate Nash Cunningham, a long time local reporter who also teaches journalism in the department. In its first year, multimedia journalism content was provided by 75 students in 7 courses involving nine faculty members. Collaborators included 14 professionals from 5 partner organizations including KUNM, KNME, the Daily Lobo and New Mexico In Depth. To date, the News Port has won 11 awards of merit, including 4 national awards. This semester, the News Port is reporting on "Creative New Mexico," a look at the region's startup business economy.[/vc_column_text][/vc_column][/vc_row]