[vc_row][vc_column width="1/1″][text_output]
ANSWERED QUESTION
As part of our Curious New Mexico project, a reader wondered about the stories of bodies and man-sized catfish in Elephant Butte Reservoir.
UNM journalism student Tianna Fernandez looked into the local lore.

Time-worn tales make public wonder what is in Elephante Butte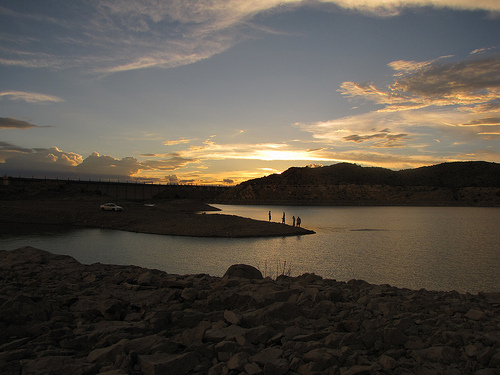 While statewide droughts have left water levels at Elephant Butte Reservoir to dwindle, one thing that hasn't receded is the tales of large catfish and lifeless bodies at the bottom of the popular boating spot in southern New Mexico.
Elephant Butte's popularity has made it home to a number of boat crashes, some of them fatal. Sometimes, the fatalities of those crashes remain uncovered.
New Mexico State Police Officer Greg Smith said that in one case, low water levels at the lake revealed a sunken boat that contained skeletal remains. Those remains were later identified as a man who was reported missing 17 years before the recovery.
People also fall victim to underwater currents. These currents draw people under the surface of the water and drown them.
"There are people that have drowned in that lake that have never been recovered," said New Mexico State Police Officer Justin Coburn, a member of the New Mexico State Police Search and Recovery Dive Team.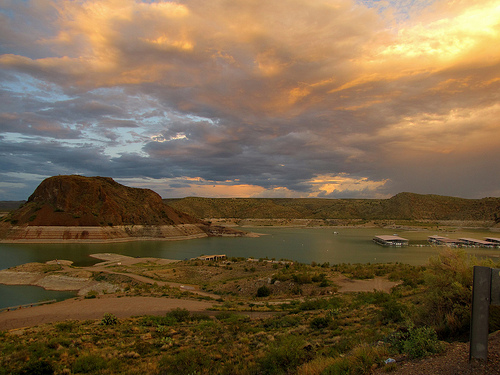 Elephant Butte was also the suspected dumping grounds for New Mexico's so-called 'Toy Box' Killer, David Parker Ray. He was suspected of having as many as 40 victims.
However, the bodies of these suspected victims were never recovered. "[Ray] made comments in the past…about the best way to dispose of a human body in a body of water such as Elephant Butte Lake," said retired police Officer Rich Libicer in an interview on May 7, 2014 with KRQE News 13.
According to Libicer, Ray's apparent knowledge about the disposal of bodies could very well be the reason officials never recovered any victims from the lake.
Still, dead bodies are not the only source of rumors at Elephant Butte Lake. The lake is also said to be home to a number of giant, man-sized catfish.

Stories about giant catfish in Elephant Butte Lake have been passed down through generations. A number of locals, fisherman, and common vacation goers often share these stories with lake newcomers.
Some of the stories describe catfish the size of school buses, which have scared divers out of re-entering the lake.
"The biggest fish in the lake are close to the dam, probably the size of a Volkswagen beetle," Coburn said. He also said he saw the shadows of such enormous fish while diving with the NMSP Search and Recovery Dive Team.
Stories about the size of the fish vary, but each story has one thing in common; the catfish are said to reside near the lake's dam. The edge of the dam is the deepest part of the lake, which reaches depths of about 80 feet.
Frank Vilorio, the owner of Land of Enchantment Fishing Adventures, states that the stories about the giant fish are hearsay. Vilorio has worked as a professional fishing guide at Elephant Butte Lake for 21 years and states that these stories began circulating in the 1970s. Vilorio also states that catfish in the lake would probably reach a maximum of 80 pounds.
Coburn is one of several lake officials who claims to have witnessed these monstrous fish first-hand. Though some long-term residents, such as Vilorio, deny these claims entirely.
The largest recorded catfish at Elephant Butte Lake weighed 78 pounds and measured about four feet long.
Four feet is not quite man-sized, but it is certainly comparable to the size of a child and may still be large enough to frighten some individuals.
The existence of the rumored, giant fish in Elephant Butte Lake is nearly impossible to prove without physical evidence. However, the existence of such catfish has been proven elsewhere in the world.
The world's largest recorded catfish weighed in at 646 pounds and was measured to be nearly nine feet long, according to National Geographic News. Fisherman caught the Mekong giant catfish in the Mekong River in northern Thailand.
[/text_output][share title="Share this post" facebook="true" twitter="true" google_plus="true"][/vc_column][/vc_row]